Steel detailing is essentially a part of structural drafting for building projects. It involved the development of shop drawings that assist the fabricators to fabricate steel framework and erect the steel members accurately. The drawings include fabrication details such as information related to welding, cut lists and bolt connection details. These details are a prerequisite for proper fabrication and also serve an important link to connect the architects and MEP professionals with the structural team as well as the contractors for effective construction of building facilities.
The process of developing shop drawings and erection drawings as a part of steel detailing is critical as the entire building strength will be dependent on the steel structure designed. As such, the structural design has to be evaluated properly for load-bearing capacity considering different loading scenarios. However, the process of developing these drawings has largely being replaced from manual to CAD. There are tools available today, such as Tekla Structures that enable steel detailers to quickly develop 3D models that further assist structural teams to communicate the design clearly with other stakeholders involved in the project.
Steel detailing companies provide complete support in the development of these drawings and 3D models. For contractors, shedding this activity helps in focussing on core activities while letting professionally qualified resources to work on developing the structural detailing. Steel detailers are proficient with the tools and are well aware of regulatory guidelines and design standards. At ENPHY, we provide complete steel detailing services for wide range of building types. We have played a crucial role in enabling accurate development of shop drawings, erection drawings, anchor bolt plans, cut lists and BOMs (Bill of Materials) to aid in quick fabrication and installation of structural components.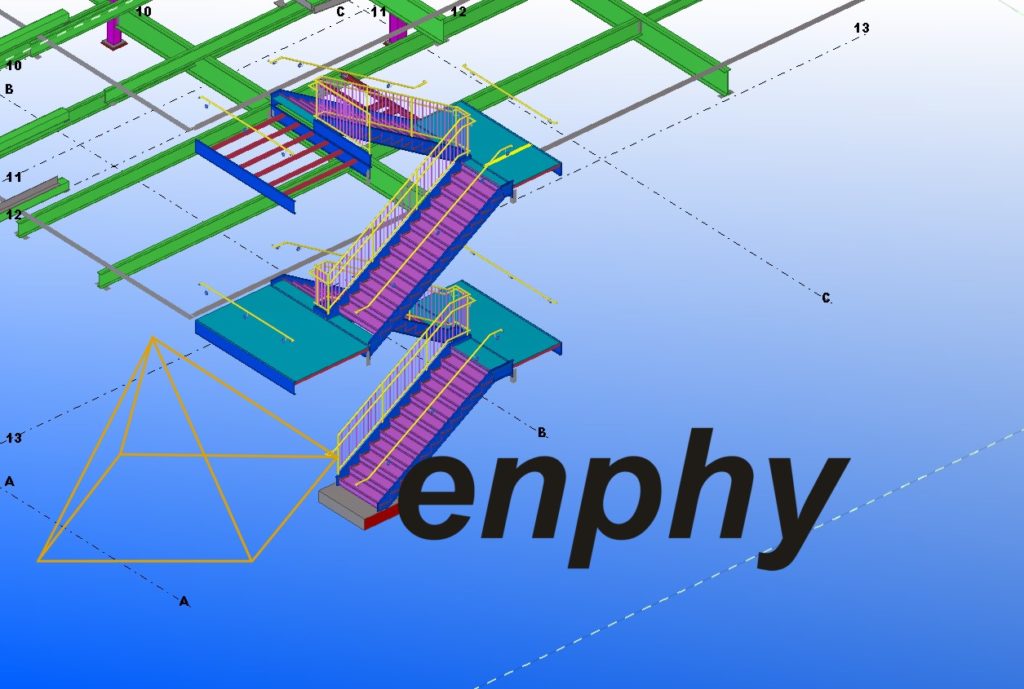 One of our clients approached us for steel detailing of a cruise terminal, located in Miami, USA. The information available with the client for steel detailing was in bits and pieces with many of the details missing. The missing information, however, was developed by our team of steel detailers and structural engineers, who worked in cohesion to ensure accuracy.

From terminal section, garage, railings, elevator hoist beams and ladders to miscellaneous steel members, our team delivered shop drawings and erection drawings to assist the fabricator. We also developed detailed assembly and part drawings for all the steel members. The project was completed within the specified deadline and yielded client with several business benefits.
With proper steel detailing, communication became a lot easier, which led to faster approvals. In addition, the outsourcing helped the client to reduce the structural design cost by 30%. This is essential because the client need not require setting additional resources and invest in software license to accomplish the steel detailing tasks. The detailed 3D model also provided the client with an opportunity to reuse the design for the development of other terminals at the port.
Benefits of Choosing Outsourcing Partner for Steel Detailing
The benefits of choosing an outsourcing partner for steel detailing requirements are manifold. You get access to a pool of talented steel detailers and structural engineers without really needing to hire them. In addition, steel detailing companies also have the right infrastructure to accommodate changes in the project that may require scaling the resources. Besides, you do not require spending a fortune on buying software licenses that may reduce your ROI on the project. Outsourcing companies buy licenses in bulk and work on multiple projects, which help them in maintaining the ROI effectively. However, choosing the right partner is equally important because structural design development in itself is a task that requires utmost care.
A good steel detailing company adheres to standard guidelines and can manage complex projects easily. The experienced companies understand the requirements clearly and always work towards reducing the number of RFIs (Request for Information) as much as possible.
At ENPHY, we do just that! With a team experience of over 20 years, we have remained a trusted partner for general contractors, sub-contractors and construction companies located globally. We project ourselves as steel detailing specialists, providing complete structural design support to companies. Headquartered in India, we have delivered steel detailing services to clients from USA, UK, Canada, Australia, Europe and the Middle East.
Know more about what we offer with structural services, or if you're interested to work with us, please feel free to share your project details at [email protected] or fill up the inquiry form.